Guacamole and chips may be the best snack food, ever! Enjoying chips and guac while sitting outside our RV, enjoying a cocktail and our surroundings is a regular event for us. And making homemade guacamole is so quick and easy! In no time, you'll have a delicious bowl of green goodness to dip your favorite chips into.
Recipe notes
Make sure your avocados are ripe. Semi-ripe avocados will work okay, but ard avocados don't make for a good guacamole.

The measurements for the other ingredients are suggestions, and you will need to add more or less depending on the size of your avocados and your taste.

If you like spicy, add some jalapenos or hot sauce.

For creamier guacamole, add sour cream or dairy-free sour cream. About a tablespoon or two.
discover. cook. enjoy.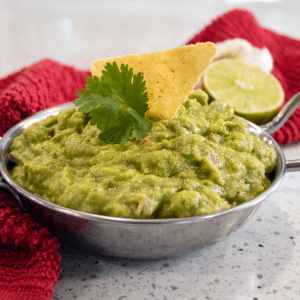 Amazing, Flavorful, Quick and Easy Homemade Guacamole
Easy to make, this guacamole will become your snacking go-to!
The Ingredients
4

avocados

,

ripened

4

cloves

garlic

,

minced

1/2

cup

red onion

,

fine dice

1/2

cup

tomato

,

roma, fine dice

2

limes

,

juiced

2

tbsp

cilantro

,

fine chop

1

tbsp

olive oil

3/4

tsp

cumin

3/4

tsp

coriander

Kosher salt to taste
The Process
Mise en Place
Dine the onions and tomatoes, mince the garlic, and finely chop the cilantro. Set aside.
Prep and Mash the Avocados
Slice each in half avocado lengthwise. Remove the seed and discard. Using a small spoon, scoop the avocado flesh out of the skin and place in a mixing bowl.

Squeeze lime juice (one half a lime or a full lime depending on the amount of avocado you have and the size of the lime) over the mashed avocado and mix to combine. Add a bit of olive oil (about a teaspoon) and mix to combine.

Using a potato masher, mash the avocado into medium-sized pieces. Switch to a fork and mash the avocado until smooth, with only a few small chunks remaining.
Make the Guac
Add the onions, tomatoes, garlic, and cilantro to the avocado mash and mix to combine. You may use more or less of these ingredients, depending on the size of your avocados, or your taste.

Add the cumin and coriander and mix to combine. Add a teaspoon or so of olive oil, and the juice of half a lime and mix to combine.

Add a pinch of salt and taste. You may want to add more lime, more cumin, or more of another ingredient to suit your taste.
Final Seasoning
Grab a tortilla chip and taste the guacamole with the chip. This will help you determine if you need more kosher salt.

If you are serving this later, transfer the guacamole to an air-tight container, squeeze some lime juice over the top and refrigerate. Enjoy!
Nutrition
Calories:
253
kcal
Carbohydrates:
16
g
Protein:
3
g
Fat:
22
g
Saturated Fat:
3
g
Polyunsaturated Fat:
3
g
Monounsaturated Fat:
15
g
Sodium:
12
mg
Potassium:
735
mg
Fiber:
10
g
Sugar:
2
g
Vitamin A:
324
IU
Vitamin C:
23
mg
Calcium:
34
mg
Iron:
1
mg