For many years as I was teaching myself how to be a better cook, I watched numerous episodes of Hell's Kitchen. If you're familiar with that show, you'll remember how horrible nearly every chef was at making Risotto. Chef Gordon Ramsey would scream at everyone who just could not seem to make it correctly. So, for many years, I thought Risotto was hard to make. It really is not. You just need preparation and patience.
Since this Risotto is dairy-free, I wanted a bit more substance to it. I added Shitake mushroom and asparagus to bring more flavor and texture. This Risotto can be served as a main dish or a side dish. We love to pair Risotto with seared scallops, another dish the chef's had a tough time with on Hell's Kitchen.
The secret to making the perfect Risotto is getting your Mise en Place together before you start. That will alow you to concentrate on cooking rather than being distracted by measuring or cutting after the recipe begins. And, you will need patience. There is a considerable amount of patience and stirring needed for making Risotto.
Recipe Notes
Only use Arborio rice. Do not use white, brown rice, or any other rice.

You can substitute the chicken stock with vegetable stock to make this dish vegan.

If you don't like asparagus, leave it out, and you will still have a delicious mushroom Risotto.

You can substitute baby Bella or button mushrooms for the Shitake mushrooms if you prefer.

If you can't find shallots, a yellow onion will work just as well.

Fresh thyme is preferred, but if you cannot find it, use dried and reduce the amount by a third.

Serve this Risotto as a side dish with fish, scallops, or chicken, or as its own main dish.
discover. cook. enjoy.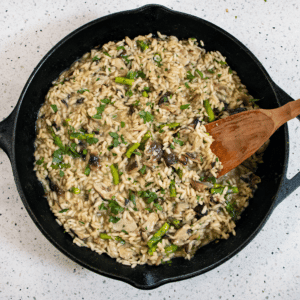 Creamy Mushroom Risotto with Asparagus | Dairy-Free, Gluten-Free
Flavorful, creamy, and delicious, this Risotto recipe can be it's own meal or a served as side dish for scallops, chicken, and more.
The Ingredients
6

cups

chicken stock

,

or veggie stock for vegan

1

tbsp

olive oil

8

oz

mushrooms

,

shitake, torn into small pieces

3

cloves

garlic

,

minced

2

small

shallots

,

diced, on 1/2 yellow onion diced

1.5

cup

Arborio rice

1/2

cup

white wine

1

bunch

asparagus

2

tbsp

parsley

,

Italian, chopped

1

tbsp

Nutritional yeast,

or 1/2 cup pecorino romano cheese

1 1/2

tsp

thyme

,

fresh
The Process
Mise en Place
Add six cups of stock to a saucepan and set it on the stove.

Measure the rice, white wine, and nutritional yeast into prep bowls. Remove thyme leaves from stems and add to a prep bowl. Fine dice the shallot (or onion), chop the parsley, tear the mushrooms into small pieces (I discard the stems), chop the asparagus, mince the garlic, and add to individual prep bowls.
Making the Risotto
Turn your chicken stock on low and season with kosher salt and pepper and a sprig of tyme.

Heat the olive oil in a cast iron or similar pan to medium-low. Add the onions and cook until softened, about three to five minutes. You don't want color on these. Increase heat to medium and add the mushroom and cook for about 3 minutes until they begin to release their water.

Add the garlic and thyme and cook for about 30 seconds or until they are fragrant. Add a bit of kosher salt and pepper and continue cooking until the mushrooms have softened, stirring frequently.

Add the rice and stir and, cook until the rice begins to crackle. Add the wine and stir and, cook until the wine is no longer visible in the pan.

Add about 2-3 ladles of stock to the pan. The stock should be slightly bubbly. If not, increase your heat slightly. Stir frequently, sometimes vigorously, to help the rice absorbs the stock. When the stock is absorbed, add two ladles of stock and continue to stir. Continue this process for about 15 minutes or until the rice is soft but still al dente.
Saute the Asparagus
While you are still making the risotto, heat a small amount of olive oil in a separate skillet on medium-high. Sprinkle kosher salt and pepper into the pan, and then add the cut asparagus. Cook until starting to soften and then remove from heat.
Back to the Risotto
After your rice is soft and al dente, add the nutritional yeast (or cheese if you are using), parsley, and asparagus, and mix through. Add two or three ladles of stock and turn off the heat. Mix to combine. Your risotto should not be soupy, nor should it be dry. It should be somewhere in between. Note that the rice will still be absorbing the liquid as it cools.
Serve and Enjoy
You can serve the risotto from the pan or transfer to a serving dish. Enjoy.
Nutrition
Calories:
191
kcal
Carbohydrates:
27
g
Protein:
9
g
Fat:
5
g
Saturated Fat:
1
g
Polyunsaturated Fat:
1
g
Monounsaturated Fat:
3
g
Cholesterol:
7
mg
Sodium:
346
mg
Potassium:
453
mg
Fiber:
2
g
Sugar:
6
g
Vitamin A:
598
IU
Vitamin C:
7
mg
Calcium:
34
mg
Iron:
3
mg