Although they present a wonderful visual presentation of our journey, photos and videos don't tell the whole story. Living life on the road is unlike any experience I've had in my life and have been feeling for some time a strong calling to write about it. Writing for me is both a creative and cathartic endeavor. The process of writing allows me to relive our adventures and share their specifics in greater detail. It also gives me the outlet I crave to analyze and understand both this journey and myself.
We are nearly five months into this full-time RV living experience. Every day I am immensely grateful for the experiences this lifestyle brings me. I know I am fortunate, and I don't take that for granted. I feel joy with every new experience, from pulling into a different campground to driving down the street of a new town. Every aspect of this life is enthralling for me.
Deciding to live life as a nomad is a decision reached differently by everyone who makes it. For me, I wanted to trade in my conformist and anchored suburban life for a life of freedom and nonconformity. I wanted to know what it felt like to have everything I owned in a rectangular box we pulled behind us without a traditional house to call home. I longed to learn if I could be flexible, positive, and resourceful in ways I had not considered before. And, I was curious to discover the ideas, endeavors, and experiences in life that really make my heart sing. I instinctively knew that the decision to live life full-time in an RV would bring me one step closer to those answers. 
Last week we were in Christmas, Michigan (just west of Munising and about 30 minutes east of Marquette) and home of the amazing Picture Rocks, enjoying the Pictured Rocks RV Park. With large sites and few trees interspersed through the sites (well, actually, there were NO trees or brushes on any site, but the site is surrounded by forest), this smaller campground was the perfect base for our UP adventures.
Rich was excited to be riding in the 2022 Ore to Shore bicycle race. When he lived in Michigan, he did the race each year, and his last race was in 2005. It was a rainy day, but that did not deter him or any of the other nearly 3,000 riders. The race started in Negaunee and ended in Marquette and was 28 miles through various, mostly wooded, terrain. He had a great ride and was very happy to have the race experience again. I was his "race crew" and loved my first race experience. Cyclists are a committed bunch, and it was wonderful to see their love for the sport. 
The day before we were set to leave Christmas, we had a kayak tour planned. Our weekdays are filled with working but our evenings and weekends (well, we do work on the weekends, too) are when we have our adventures. But, for the first time, we took a weekday off to have an adventure. It felt irresponsible, but at the same time, it felt so good!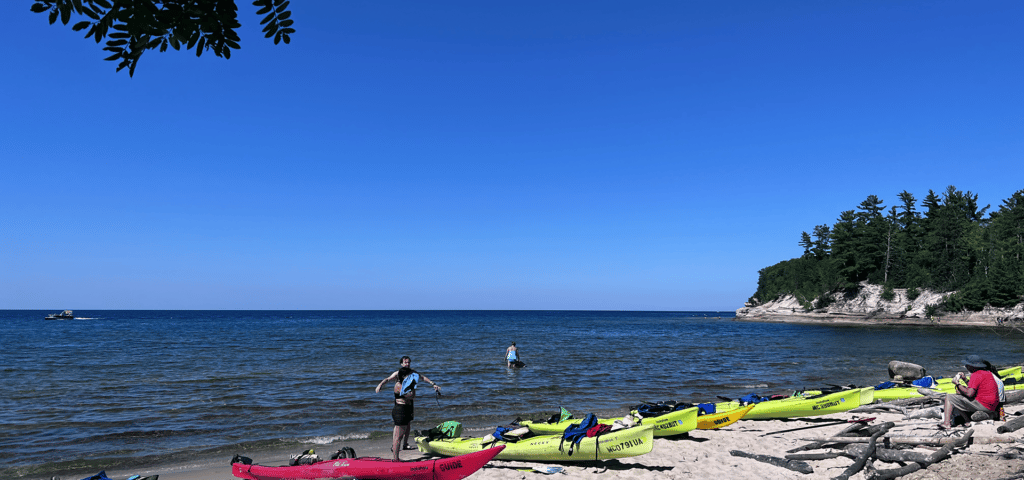 Our six-hour kayak tour of Pictured Rocks was more amazing than we could have imagined. Seeing the natural wonder of the rocks close enough to touch them was incredible and so much better than from one of the many tour boat options. Our kayak guides were knowledgeable and fun, and everyone in our group was as excited about the journey as we were.
I had never kayaked before this tour and wasn't sure if the issues I have with my hands and elbows due to thirty years of computer work would make it difficult to paddle. It did not take long to find out, as I was paddling as soon as we launched into the lake, and it felt so good! My body, and my hands and elbows, took to it as if they were longing for the movements and expression of strength. I found a paddling rhythm and was astounded at my ability to use my back muscles and help push us forward into the lake. Rich and I were in a tandem kayak, so I did not have to carry the entire load, yet, I felt so strong and capable; I think I could have! 
Being on the water was calming and inspiring and reminded me how much I missed it. I grew up in the Tampa Bay area of Florida and spend many days in or near the water. After 27 years in Colorado, I nearly forgot how much water means to me.
We paddled about 10 miles total on the tour, and I still can't believe it! I was not very sore the next day or the day after, and that amazed me. I have found my new "sport!"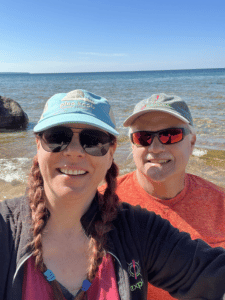 Rich has kayaked many times before and has always loved it. My newfound kayaking joy made him very happy. The next day, he researched and purchased life jackets and paddles for us so we would have our own gear when we rented kayaks. We really want our own kayaks, but traveling with them would necessitate adding a rack to the roof of Stella, which we are not sure we want to do. We do not rule out buying kayaks in the near future, though!
When we decided to book the kayak tour, I had no idea how transformative the experience would be for me. And that is one of the many things I love about full-time RV life: the adventures and potential for growth and understanding. I know myself better after kayaking, and I am more confident with my newfound skills. With every experience, I learn more about myself, and that is the best part of this journey.
discover. cook. enjoy.