Over thirty years ago, I had a version of this salad in Los Angeles. Then, a month or so ago, for some reason, I thought about it again and wanted to make it for myself and revisit those wonderful flavors. I remembered loving the combination of salami, chickpeas, and a wonderful vinaigrette. That salad of my memories, however, also had Mozzarella cheese, which I left out of this recipe. You can add it back in if you are dairyful. See note below.
The combination of salami and chickpeas may seem strange, but after you try this salad, you will understand why they go so well together. Packed with protein and flavor, this salad is perfect for dinner or lunch and is very easy to make. The homemade vinaigrette adds a wonderful zestiness and the roasted red peppers and black olives add additional layers of flavor.
Recipe Notes
Although the vinaigrette is delicious, you can dress the salad with a store-bought version to save time.

I used Italian Dry Salami in a Chub (thick stick of meat), and you can use just about any thick salami. Don't use luncheon salami. The salad needs a thicker piece of salami for the best flavor and texture.

I cut the salami in quarters and if you want your salami bigger or smaller, go right ahead.

I marinated the chickpeas for a bit, but it's not critical. Marinating does soften them some, though.

I used Castelvetrano olives, and you can use those or black olives or another type of olive.]

You may want to use a different lettuce-to-ingredient ratio than the recipe calls for. Feel free to add more or less lettuce or switch up the types of lettuce.

I added grated Pecorino Romano cheese (made from sheep's milk which I can tolerate). If you cannot eat sheep or goat cheese (along with cow's milk cheese) add a teaspoon of nutritional yeast to the dressing instead.

And, if you are dairyful, add 1 cup of Mozzarella cheese, shredded to the salad.
discover. cook. enjoy.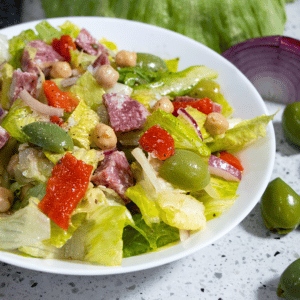 Flavorful Italian Salami and Chickpea Chopped Dinner Salad (GF/DF)
Salami and chickpeas go perfectly with chopped romaine, roasted red peppers, olives, and a zesty vinaigrette.
The Ingredients
For the Salad
4

cups

romaine lettuce

,

chopped

2

cups

iceberg lettuce

,

chopped

7

oz

salami

,

Italian dry, sliced

14

oz

garbanzo beans

,

(chickpeas) in the can

1/2

medium

red onion

,

sliced

1/2

cup

Castelvetrano olives

,

halved or sliced

1/4

cup

roasted red peppers

,

sliced

1/4

cup

artichoke hearts

,

marinated, chopped
For the Vinaigrette
3/4

cup

olive oil

,

extra virgin

1/4

cup

red wine vinegar

1

tbsp

Dijon mustard

1/4

cup

Pecorino Romano

,

sheep-based cheese, grated, or 1 tsp nutritional yeast

1/2

tsp

oregano

,

dried

1/2

tsp

basil

,

dried

salt and pepper to taste
The Process
Mise en Place
Gather all your ingredients. You will need a large bowl for the salad, a squeeze bottle for the dressing, and a medium-sized bowl for the chickpeas.

Open the can of chickpeas and drain but do not rinse. Add to a bowl and set aside.
Make the Vinaigrette & Marinate the Chickpeas
If using the Pecorino Romano cheese, grate 1/2 cup and set aside. Measure and add to the squeeze bottle the olive oil, red wine vinegar, dijon, oregano, and basil. Add the cheese and season with kosher salt and pepper. Shake vigorously to mix.

Add about 1-2 tablespoons of the vinaigrette to the chickpeas and mix gently to combine. Let sit for 15 minutes.
Prep the Salad Ingredients
Chop the romaine and iceberg lettuce and add to a large bowl. Slice the red onion, roasted red peppers, artichoke hearts, and black olives and add to the bowl. Mix gently to combine.

Slice the salami into circles about 1/8 to a 1/4 inch thick. Slice again in quarters and add to the salad.
Finish the Salad
Add the marinated chickpeas to the salad, and mix well to combine. If you are dressing the salad in the bowl, add about a quarter cup (or as much or as little as you like) to the bowl and mix to combine. Otherwise, serve the salad from the bowl and let your guest add the dressing.
Nutrition
Calories:
470
kcal
Carbohydrates:
14
g
Protein:
13
g
Fat:
41
g
Saturated Fat:
9
g
Polyunsaturated Fat:
5
g
Monounsaturated Fat:
26
g
Cholesterol:
30
mg
Sodium:
1177
mg
Potassium:
367
mg
Fiber:
5
g
Sugar:
1
g
Vitamin A:
2912
IU
Vitamin C:
5
mg
Calcium:
96
mg
Iron:
2
mg