Take your Taco Tuesdays to the next level with Crispy Birria Tacos! 🌮
These may be the BEST tacos you have EVER eaten.
Sous Vide slow-cooked short rib, chuck, and bone marrow with an insanely delicious sauce packing tons of flavor combined with "sauced" corn tortillas, cooked to crispy perfection on the Blackstone Griddle. Eat by dipping the Birria Taco in the 24-hour simmered sauce for a serious flavor bomb! They can be made as spicy, or not spicy as you like. 
discover. cook. enjoy.
If you don't have a Sous Vide (which many do not) this recipe can be made utilizing an Instant Pot.
Make everything in the recipe as stated EXCEPT for this part:
Instead of adding the seared meat and sauce to vacuum bags, add to your Instant Pot and cook on high pressure for 45 minutes.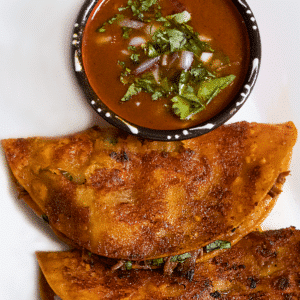 GF Sous Vide Birria Tacos on the Blackstone Grill
Take Taco Tuesdays to a new level of taco deliciousness! This may be the best taco you've ever had!
The Ingredients
For the Meat
3

lbs

short ribs

,

or 1.5 lb each of chuck and short ribs

2

marrow bones

,

OPTIONAL

6

bay leaves

,

dried
For the Spice Blend
2

tbsp

oregano

,

Mexican

2

tsp

cinnamon

2

tsp

onion powder

2

tsp

garlic powder

2

tsp

coriander

2

tsp

cumin

1/2

cup

brown sugar

,

light

1

tsp

kosher salt

1

tsp

ground pepper
For Marinate and Sauce
6

Guajillo chilis

,

seeded

3

Chipotle peppers in adobo sauce

2

cups

beef stock

,

or vegetable stock

2

tbsp

tomato paste

15

oz

crushed tomatoes

6

cloves

garlic

,

minced, or more if you like!

1

yellow onion

,

medium, sliced

1

lime

,

juiced

2

tbsp

honey
For the Tacos
12

corn tortillas

1/2

cup

red onion

,

diced

6

oz

Oaxaca cheese

,

or manchego

2

tbsp

cilantro

,

finely chopped
The Process
Create the Spice Blend and Prepare the Meat
Combine all the spice blend ingredients, mix well. Half of the spice blend will be used to rub your meat. Set aside the other half for the sauce mixture.

Coat the meat well with sunflower oil and rub spice mixture over the meat on all sides. Set aside to bring to room temperature and lets spices permeate the meat.
Prepare the Guajillo Peppers
Remove the stems and seeds from the peppers and set them aside. For spicier tacos, utilize the seeds in the sauce.
Sear the Meat
Heat 2 tablespoons of canola or sunflower oil in a large pan. Sear your meat on all sides with high heat. The more color you get on your meat the more flavor you will impart in your sauce. Roughly 3 minutes per side for a good sear.
Make the Sauce
Remove meat, turn the burner down to medium. Immediately add the chopped onion, chipotle peppers in adobe, and tomato paste. Stirring to loosen the fond (well-cooked crispy bits) from the bottom of the pan. Do this until the onions turn translucent. About 5-7 minutes.

Add in your garlic and guajillo peppers. Cooking until the garlic becomes fragrant and the peppers begin to soften. About 5 minutes.

Stir in the remaining spice blend. Heating them activates their flavors. About 5 minutes or until fragrant.

Add 15 can of crushed tomatoes, lime juice, and beef stock. Bring to a boil. Once boiling, reduce heat and gently simmer for 20 minutes or until guajillo peppers are exceptionally soft. The softer your peppers become, the smoother your sauce will be when blended.

While your sauce is simmering, divide your meat, bay leaves, and bone marrow (if using) into 2 vacuum seal bags. Start your Sous Vide setting the temperature to 185 degrees.

Once the sauce is done simmering, remove from heat and let rest and cool for 10 minutes or so.

Place sauce in a blender and blend on high for 3-7 minutes until smooth.
Prepare the Sous Vide and Cook for 24 Hours
Divide sauce between your 2 vacuum bags. Seal both bags. Place in Sous vide. Meat will cook for 24 hours at 185 degrees. Top off the water level of sous vide as needed.

After 24 hours. Remove bags from sous vide. Let cool so they are easy to handle. Can be put in the refrigerator and used up to 3 days later if desired.
Prepare to Make the Tacos!
Separate your sauce and meat. Discarding the bay leaf and bone marrow and any bones if you used bone-in short rib. Shred all of the meat with a fork.

Put the sauce from the bags in a saucepan and bring it to simmer. As it cooks oil will come to the surface. Skim the oil onto a plate or shallow bowl, large enough to dip tortillas into to coat and grill. Once most of the oil is removed from the sauce, add a couple of spoonsful of the sauce to the oil to give it extra flavor!

Add a couple of ladles of sauce to your meat to coat. Keep the remaining sauce warm while cooking tacos.
Time to Cook and Eat the Tacos!
Prepare your pan or griddle. Lightly oil on medium-high heat. Dip tortillas in the oil sauce mixture and griddle. After a few minutes, flip your tortillas. On one half of the tortilla, place your meat, on the other half, place the cheese of your choice, cilantro, and finely chopped onion.

Fold the tacos over, cooking each side for 1-2 minutes until a nice char forms on the outside of the tacos.

Remove from heat and serve with a side of the warm sauce. Dip your Birria tacos into the sauce and enjoy!
Nutrition
Serving:
10
oz
Calories:
392
kcal
Carbohydrates:
33
g
Protein:
23
g
Fat:
19
g
Saturated Fat:
7
g
Cholesterol:
54
mg
Sodium:
540
mg
Potassium:
660
mg
Fiber:
4
g
Sugar:
16
g
Vitamin A:
632
IU
Vitamin C:
8
mg
Calcium:
91
mg
Iron:
4
mg