If there's one dish I could eat every single day of my life it would be potato salad. Ever since I can remember, I have loved this quintessential summer side dish. 
I call myself a potato salad aficionado, always seeking out new versions to try, adding to my repertoire of recipes. This recipe is my classic go-to and probably the flavors you think of when you hear the words, potato salad. 
The big question when it comes to potato salad is, which potato to use? For many years, I went with the advice I found most frequently online: use waxy potatoes. The lower starch content works better in potato salad. Yes, and no. The potatoes help up well, but the creaminess I love in potato salad was just not there. So, I switched to russet potatoes and never looked back. It took a while to find the perfect boiling process for the potatoes so they would not end up a mushy mess, and I share that with you so you don't have to fail to succeed.
Try out the recipe and let me know how you like it, and what you would change or add. We all have different preferences and I would love to hear about yours.
discover. cook. enjoy.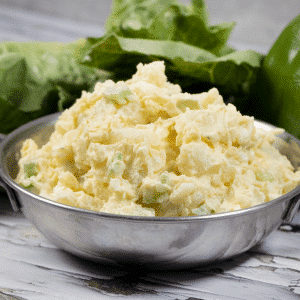 GF DF Luscious and Creamy Classic Potato Salad
It's not summer without potato salad! Packed with flavor and creaminess, this recipe is sure to wow everyone at the BBQ.
The Ingredients
5

lb

russet potato

4

ribs

celery

1

large

onion

,

yellow

1

medium

green pepper

6

eggs

,

hard boiled

1

tbsp

kosher salt

,

for cooking the pototoes
The Sauce
2

cups

mayonnaise

3

tbsp

Simple Truth Plant Based Sour Cream

1

tbsp

apple cider vinegar

1/2

tsp

Worcestershire sauce

1/2

tsp

onion powder

1/2

tsp

garlic powder

1/4

tsp

paprika

1/4

tsp

tumeric

1/4

tsp

dry mustard

1

dash

fish sauce

,

optional

Kosher salt and pepper to taste
The Process
Mise en Place
Gather your ingredients. Dice the onion, slice the celery, and dice the green pepper. Set aside.
Hard Boil the Eggs
Add six eggs to a medium saucepan and cover by 2 inches with cold water. Bring to a boil and immediately reduce the heat to low and set a time for 14 minutes. Then, test one egg by removing it from the water, run under cold water peel and slice to check doneness. If done, remove the rest of the eggs to an ice bath to cool. Once cool, peel the eggs and set aside.
Boiling the Potatoes
Wash, peel, and rewash the potatoes. Cut into 3/4 inch cubes and add to a large pan. Cover by 1-2 inches with cold water. Add a tablespoon of kosher salt and bring to a boil. Boil potatoes until tender, but not soft. They should not be hard either, but should have just a bit of push back when you bite into them. DO NOT OVERCOOK! Once done, drain and move to a sheet pan to help quicken the cooling process. About 15-30 minutes
Make the Sauce
While the potatoes are cooking, make the sauce. Add all the sauce ingredients to a mixing bowl and mix to combine.
Make the Salad
Once the potatoes are cooled down, add them to a large mixing bowl. Then add the onions, celery, and green pepper, as much or as little as you like. Slice the eggs with an egg slicer over the bowl and add to the bowl. Add half of the sauce and mix well. Add the rest of the sacue and mix again. Taste to see if you need to add salt and pepper (most likely). Add salt and pepper until you have your desired taste.

Put in the fridge at least an two hours to allow the flavors to meld. Enjoy!!
Nutrition
Serving:
4
oz
Calories:
223
kcal
Carbohydrates:
18
g
Protein:
4
g
Fat:
15
g
Saturated Fat:
3
g
Trans Fat:
1
g
Cholesterol:
49
mg
Sodium:
440
mg
Potassium:
452
mg
Fiber:
2
g
Sugar:
2
g
Vitamin A:
123
IU
Vitamin C:
10
mg
Calcium:
25
mg
Iron:
1
mg