Living in an RV allows us to find local and regional ingredients and dishes we may have never discovered before. Cudighi sausage, popular in the Upper Peninsula of Michigan, is one of them.
Cudighi sausage has deep Italian roots. We discovered the sausage when we were in the Marquette area and knew we had to try it. Since Rich has no food restrictions, he courageously ate the sandwich. As he enjoyed his Upper Peninsula deliciousness, he conveyed to me the flavors and textures he was experiencing. Cudighi sausage is available at local Marquette grocery stores, and we picked up a package and headed back to our RV kitchen to create a gluten-free, cow-dairy-free version.
The version Rich sampled was the more modern version of the sandwich: sausage, onions, and Mozzarella cheese. The traditional version, with mustard and onions, sounded intriguing but was not available for Rich to sample. We knew we wanted to create a sandwich using mustard and onions and set out to create our recipe.
Since I love to make sauces, I made a delicious mustard sauce instead of using mustard straight from the bottle. We grilled peppers with the onions, added a slice of goat cheese (available only at Trader Joe's and it is amazing!), and loaded up our gluten-free baguette. It was delicious!
Recipe Notes
Cudighi sausage is only available in the UP of Michigan, but you can use any Italian sausage for this sandwich. 

You can also buy bulk Italian sausage and add some clove and cinnamon (very little!) to get closer to the Cudighi flavors.

If you cannot tolerate any dairy, even goat or sheep, leave off the cheese, and the sandwich will still be amazing.

If you are dairyful, add Provolone, Monterey Jack, or Mozzarella cheese.
https://www.ishpemingitalianfest.com/index.html
discover. cook. enjoy.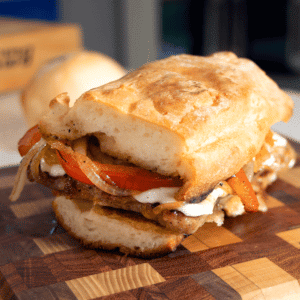 Italian Cudighi Sausage Sandwich with Mustard Sauce (GF/DF)
This decadent sandwich bursting with flavor is a Michigan Upper Peninsula favorite.
The Ingredients
For the Sausage
1

lb

Italian sausage

,

Cudighi is you can get it.

1

small

red pepper

,

sliced

1

small

green pepper

,

sliced

1

medium

yellow onion

,

sliced

1

tbsp

sunflower oil

kosher salt and pepper
Mustard Sauce
1/4

cup

mayonnaise

2

tbsp

yellow mustard

1

tbsp

stone ground mustard

1

clove

garlic

,

minced

1/2

tsp

Worcestershire sauce

kosher salt and pepper to taste
Optional Cheese
1

slice

goat cheese

,

(optional) Provolone, Monterey Jack, or Mozzarella
The Process
Mise en Place
Split Italian sausage into four equal parts and form a rectangular pattie out of each part.

Slice the peppers and onions thinly, about 2 inches long.
Make the Sauce
Mix the mayo, mustards, garlic, Worcestershire sauce, and minced garlic together in a small bowl. Season with Kosher salt and pepper to taste.
Cook the Veggies and Sausage
Add about a tablespoon of sunflower oil to a cast iron pan. Heat to medium-high and add the peppers and onions. Cook until soft and browned. Remove from the pan.

Add the sausage patties and cook for about 4-6 minutes each side or until cooked through. Use a spatula to gently press down the patties so the entire rectangle of sausage touches the cooking surface.

If using cheese, add to the top of each patty when the patties are nearly finished and let melt. Remove from pan.
Toast the Bread
Drain excess fat from the skillet and then add about a teaspoon of Earth Balance. Let melt and then add the sliced baguettes, inside down, to the pan and toast. Flip and toast the outside slightly. Remove from pan.
Make the Sandwich
Spread mustard sauce on both slices of the baguette. Add one sausage patty to the bread and some onions and peppers. Enjoy!