Sometimes you do things or don't do things for no good reason. For me, not making homemade Chex mix for 15.9 of the 16 years I have been gluten-free is one of those things I just never did. I don't have a reason, which, to be honest, perplexes me. But now that I have made it, I can't stop eating it!
Snack mixes are not something we gluten-free get to enjoy very often. We can make our own trail mix, yes, but a crunchy, delicious snack the glutenful folks enjoy without thinking is typically not something we can also enjoy.
If you have never made your own Chex mix, do it TODAY! It will change your life! It's very quick and easy to make, and you should be able to easily find the ingredients at your local grocery store on Amazon.
Recipe notes
If you are dairyful, use unsalted butter instead of Earth Balance.

If you can't find or don't want to use Snack Factory Pretzel Crackers, use GF pretzels from Snyders or Glutino.

If you can't find or don't want to use Schar Bread Sticks, find a GF cracker you like, and break it into bite-size pieces.

If you want your Chex mix to have a spicy kick, add a bit of your favorite hot sauce to the sauce recipe.

The flavor of the Chec mix is more intense after it has cooled for 24 hours.
discover. cook. enjoy.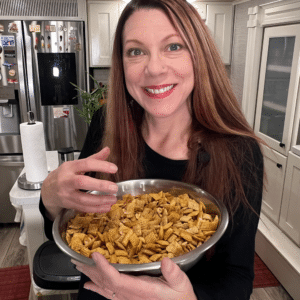 The BEST Chex Mix Recipe, EVER!
This gluten-free, dairy-free Chex Mix is so addictive and may become your go-to snack!
The Ingredients
Snack Mix
4.5

cups

Rice Chex

4.5

cups

Corn Chex

1.5

cups

peanuts

,

Planters cocktail

2

cups

Pretzel crackers

,

Snack Factory or GF pretzels

2

cups

Schar Breadsticks

,

plain
Sauce
8

tbsp

Earth Balance Buttery Spread

3

tbsp

Worcestershire sauce

1.25

tsp

garlic powder

1

tsp

onion powder

1

tsp

Kosher salt

.5

tsp

black pepper

.5

tsp

paprika
The Process
Mise en Place
Gather all your ingredients. Preheat your oven to 250 degrees. You will need a sheet pan for this recipe.
Prep the Snack Mix
Measure and add the corn, rice Chex, and peanuts into a large mixing bowl.

Measure the Pretzel Cracker and break up into bite-sized pieces before adding to the mixing bowl. Do the same with the Schar Breadsticks.
Prep the Sauce
Add the Earth Balance to a microwave-proof cup or bowl and cook for 30 seconds or so until the Earth Balance is melted. Add the Worcestershire. Measure the garlic powder, onion powder, Kosher salt, black pepper, and paprika and add to the bowl. Stir well to combine.
Bake the Snack Mix
Slowly pour half the sauce over the snack mix and use your hands or a spoon to combine. Pour the rest of the sauce over the snack mix and combine. Make sure your snack mix is well coated.

Transfer the snack mix to a sheet pan and spread out evenly on the pan. Bake 60 minutes in a 250-degree oven, mixing every 15 minutes. Remove from the oven and let cool.
Storage
The snack mix's flavors will intensify as it cools. Once room temperature, transfer to a storage bag or serve. The snack mix will taste the best the next day. Enjoy!
Nutrition
Calories:
307
kcal
Carbohydrates:
32
g
Protein:
6
g
Fat:
18
g
Saturated Fat:
4
g
Polyunsaturated Fat:
5
g
Monounsaturated Fat:
8
g
Sodium:
598
mg
Potassium:
219
mg
Fiber:
3
g
Sugar:
3
g
Vitamin A:
573
IU
Vitamin C:
5
mg
Calcium:
100
mg
Iron:
7
mg