Gluten-free comfort foods are hard to come by. When we discovered Delallo's Gluten-Free Gnocchi a few years ago, we immediately bought a box and cooked it up. Holy cow, was it good!
While staying outside Pittsburgh, we discovered that Delallo was born here, and their original Italian Market was a short drive away. Of course, we had to plan a visit.
Watch the video below to take the tour with us (the largest olive bar ever!) and see all that Delallo's wonderful market has to offer.
We were so inspired we came back to Howie (our RV) and immediately made a delicious one-pot meal. Well, you do need to boil the gnocchi in a different pot, but everything else is in one skillet. Out gluten-free, cow-dairy-free, creamy tomato and Italian sausage skillet with gnocchi is comfort food at its best. The creaminess of the sauce and gnocchi feels decadent, and the basil and spinach bring a wonderful freshness and lighten up the dish.
Recipe notes
We used the Delallo's Family Style Gluten-Free Gnocchi, which is much larger than the mini version We have not encountered the Family Style in any store around the country. You can find it at Amazon HERE.

The dish would work well with the Mini version, which can be found in some grocery stores and specialty food stores. If you can't find it near you, you can find it at Amazon HERE.

Or, you can visit Delallo's website HERE.

We used a dairy-free heavy cream, and if you are dairyful, use regular heavy cream. Our first choice of dairy-free heavy cream is Country Crock Plant Cream, and you can find it HERE or at your local grocery store. We found it at Kroger and Publix so far.

The cream we used was Califia Farms (we were trying it out, and it was the only one we had), and you can find it HERE. It brought a good texture, but there was an underlying taste we had to irradicate.

Silk brand also makes a dairy-free heavy cream, and it is really good. You can find it HERE. 

You may want to add more heavy cream and do so if you want a more creamy flavor and texture.

We used Delallo Italian sausage, and any quality Italian sausage will work well. If you buy links instead of bulk sausage, you can take it out of the casings as we did.

We used about 21 oz of the 28 oz can of crushed tomatoes. You may want to add the tomatoes slowly to see how much you want to use. Use the entire for a more saucy dish. 

If you cannot tolerate any dairy (no goat or sheep varieties either), add a couple of teaspoons of Nutritional Yeast to bring a bit of a cheesy flavor that the Pecorino Romana brings.
discover. cook. enjoy.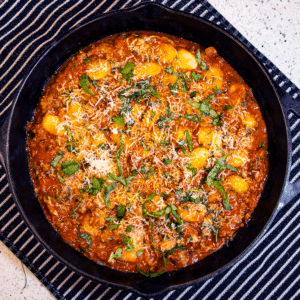 Creamy Italian Sausage and Gluten-Free Gnocchi One Pot Meal
Delallo's gluten-free gnocchi is comfort food at it's best!
The Ingredients
1

pkg

Gnocchi,

Delallo GF Family Style or Mini

2

tsps

olive oil

1

lb

Italian sausage

28

oz

tomotoes

,

crushed, we use delallo or cento

1

small

onion

,

diced

3

cloves

garlic

,

minced

1/2

cup

heavy cream

,

dairy-free or dairyful we love Country Crock Plant Cream

1

tbsp

balsamic vinegar

1

tsp

oregano

,

dried

3

oz

spinach

,

fresh, chopped

3

tbsp

basil

,

fresh, chiffonade

Kosher salt and pepper to taste

1/4

cup

Pecorino Romano cheese

,

or 1 tb nutritional yeast if dairy-free
The Process
Mise en Place
Prepare the sausage. If you bought bulk, do nothing. If you bought link, then remove from the casing and add to a prep bowl.

Dice onion, mince garlic and place in a prep bowl. Chop the spinach and add to a prep bowl.

Measure the dried oregano and balsamic and add to prep bowls. Measure out the heavy cream. Grate the cheese (or measure out the nutritional yeast) and set aside for garnish.
Cook the Gnocchi
Cook the gnocchi as directed on the package: bring to a boil 4 quarts of salted water. Once boiling, add the gnocchi and still gently to break apart. Once they rise to the top of the pan, remove using a spider strainer and transfer to a bowl. Add a bit of olive olive and mix the gnocchi to keep them from sticking. Set aside until they are needed in the skillet.
Make the Skillet
While the gnocchi water is coming to a boil, add a small amount of olive oil ot the skillet and set the heat to medium-high. Once the skillet and oil are hot, add the sausage and cook for about 2-3 minutes. Add the onions and garlic and cook until the sausage is mostly browned, breaking it up into smaller pieces as it cooks. The sausage can be slightly pink in the middle as it will cook more as you make the sauce.

Add the tomato sauce to the skillet and stir to combine. Add the oregano, balsamic, and heavy cream and stir to combine. Let cook for 2-3 minutes. Add the spinach in bunches into the skillet slowly and stir to combine. Let cook 2-3 minutes more and then add half of the basil and stir. Taste and kosher salt and pepper as needed.
Adding the Gnocchi and Garnish
Slowly and gently add the cooked gnocchi to the skillet and stir to combine. Let cook for 2-3 minutes. If you are using nutritional yeast instead of cheese, add it now and stir to combine. Taste and add more kosher salt and pepper as needed. Remember, if you will be garnishing with cheese, it will bring in more salt to the dish.

Remove the skillet from the heat, garnish with cheese (if using) and basil. Serve directly from the pan or scoop into dishes. Enjoy!
Nutrition
Calories:
556
kcal
Carbohydrates:
6
g
Protein:
20
g
Fat:
50
g
Saturated Fat:
21
g
Polyunsaturated Fat:
5
g
Monounsaturated Fat:
21
g
Cholesterol:
126
mg
Sodium:
932
mg
Potassium:
489
mg
Fiber:
1
g
Sugar:
2
g
Vitamin A:
2545
IU
Vitamin C:
11
mg
Calcium:
147
mg
Iron:
2
mg