You may not know this, but cherries are a BIG thing here in Michigan. There are sold on the roadside throughout northern Michigan, and there is even a Cherry Festival each year in Traverse City.
When most people think of using fresh cherries in a recipe, most likely, they're imagining a wonderful, sweet dessert. 
Well, not me! When I set my eyes on the Michigan Sweet Cherries, cherry pie was the furthest thought from my mind.
Strangely, my first thought was to find a way to put it on a burger. Yes, a burger. That's how my mind works. I do love a good onion jam, and I thought the cherries, combined with some additional ingredients, would create an interesting flavor profile.
As I was building the burger in my mind, I knew there needed to be a strong contrasting flavor that would push up against it but at the same time play well with the cherries and onions. Bleu cheese was the ingredient to pop into my mind. Luckily for me, as a dairy-free person, I can eat sheep and goat-based cheeses, but nothing from a cow. But, would I be able to find sheep Roqufort here in northern Michigan? We hit up a small local specialty store, and I was thrilled to find it. Whew! 
Even though I "knew" in my mind the burger was going to be delicious, I was a wee bit nervous when I took the first bite. As soon as the symphony of flavors hit my taste buds, I had nothing to worry about. It was AMAZING!
Recipe notes
Pitting cherries is messy and a bit of a pain, but it will be worth it. If you don't want to go down that path, or cannot get fresh cherries, I believe frozen cherries will work as well.

I like to use three different varieties of onions when I caramelize, but you can use all yellow or a different mix.

If you cannot tolerate any dairy, even sheep or goat, Violife Feta cheese will work well.

Arugula was my first choice for greens because of the peppery flavor it brings but other greens would work well too.

I dressed the arugula with a vinaigrette I had made for roasted beets to add more flavor. This is optional and if you want to try it, here is the recipe.

I really wanted to add yellow mustard to the burger but didn't in the video. However, I did add it to a small piece of the burger and loved the extra flavor it brought.
discover. cook. enjoy.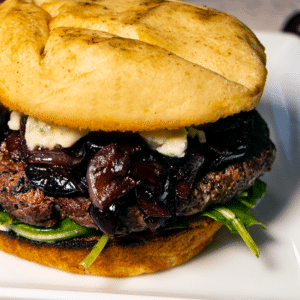 Savory-Sweet Cherry Onion Jam Burger
Elevate your burger with a surprisingly delicious mix of cherries and onions.
The Ingredients
For the Jam
8

oz

cherries

,

fresh, pitted

1

medium

yellow onion

,

sliced

1

medium

red onion

,

sliced

1

large

shallot

,

sliced

1

sprig

rosemary

,

fresh

1

sprig

thyme

,

fresh

2

tb

balsamic vinegar

1

tb

olive oil

1

tsp

Dijon mustard

kosher salt and pepper to taste
For the Burger
1

lb

ground beef

,

grass-fed, organic

kosher salt and pepper to season

,

or, your favorite burger seasoning
Burger Toppings
3

oz

Roquefort cheese

,

sheep based bleu cheese

1

oz

arugula

1

tsp

mayonnaise

4

Gluten Free Hamburger Buns,

or glutenful if you prefer
The Process
Mise en place
Pit the cherries and then slice them into quarters. Add to a small saucepan. Measure and add the balsamic and dijon to the cherries.

Slice the onions and shallots.

Split the ground beef into four equal parts, make patties, and season both sides with kosher salt and pepper or your favorite burger seasoning. Set aside and let come to room temperature while you cook the cherries and onions.
Simmer the Cherries
Place the saucepan of cherries on medium heat and bring to a slight boil. Reduce to low and let simmer while you carmelize the onions, stirring occasionally.
Caramelize the Onions
Heat the olive oil in a cast iron skillet to medium-high. Add the onions, season with kosher salt and pepper, and cook until they start to release their moisture. Add the sprigs of thyme and rosemary and continue to cook at medium. When the pan becomes dry, add a small amount of water, stirring occasionally. Continue the process of adding water when dry and stirring until the onions are a deep golden brown color, about 15-20 minutes.
Make the Jam
When the onions are ready, remove the sprigs of rosemary and thyme, and then add the cherries to the pan and mix to combine. Reduce to low and let simmer while you grill the burgers. Once the burgers are done, remove from the heat and let cool for a bit.
Grill the Burgers
Heat your grill to medium-high and cook the burgers for approximately 4-5 minutes each side for medium. After you flip the burgers, add the buns and toast, watching carefully to not burn them.
Build your Burger
Spread mayo on both sides of the bun. Add some arugula to the bottom bun, add the burger, add the cherry onion jam, and the Roquefort. Add the top bun, and enjoy!
Nutrition
Calories:
596
kcal
Carbohydrates:
39
g
Protein:
30
g
Fat:
35
g
Saturated Fat:
14
g
Polyunsaturated Fat:
3
g
Monounsaturated Fat:
15
g
Trans Fat:
1
g
Cholesterol:
100
mg
Sodium:
700
mg
Potassium:
644
mg
Fiber:
3
g
Sugar:
15
g
Vitamin A:
443
IU
Vitamin C:
11
mg
Calcium:
261
mg
Iron:
4
mg