Apple crisp makes my heart sing! It's my favorite dessert and I really should make it more often. It reminds me of Dutch apple pie but is so much easier to make.
My apple crisp recipe is gluten-free and dairy-free and uses gluten-free certified oats (Bob's Red Mill), a custom flour blend we created to replace the all-purpose flour, and Earth Balance Buttery Spread instead of butter. The orange and lemon juice is a nice balance for the sugar and adds a wonderful depth of flavor. Oh, and the crisp, which is in my opinion, the best part. It's wonderfully crunchy, decadently buttery, and hard to stop eating.
I love to eat the apple crisp warm either by itself or topped with Very Vanilla Cashew Frozen Dessert which is the closest thing to "real" vanilla ice cream I have found.
Be careful, you may not be able to stop eating this!!
Note on the flour blend
We created what we call our Cooking Flour Blend and used it in this recipe. We don't recommend it for baking cookies, cakes, or any other gluten-free baking. We DO recommend it for sauces, gravies, batters, dusting, and some desserts. Click here for the recipe.
discover. cook. enjoy.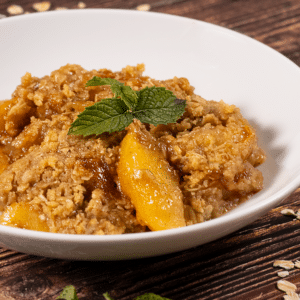 GF DF Decadently Delicious Classic Apple Crisp
Warm apples with cinnamon and citrus topped with a buttery crumble that will make your heart sing!
The Ingredients
For the Apples
4

lbs

apples

,

Gala or Fiji or similar, peeled and sliced

zest of one half lemon

zest of one half orange

2

tbsp

lemon juice

,

fresh squeezed

2

tbsp

orange juice

,

fresh squeezed

1/2

cup

sugar

,

granulated

2

tsp

ground cinnamon

1

tsp

ground nutmeg
The Process
Mise en Place
Preheat your oven to 350 degrees. Grease a 9x13 baking dish with Earth Balance.

Cut the Earth Balance you will use for the crisp into small cubes, place in a bowl and put into the fridge to keep cold until needed later in the recipe.
For the Apples
Before you start peeling and slicing the apples, get the rest of the ingredients ready. Squeeze the lemon and orange juices into a small bowl. Measure the cinnamon and nutmeg into a small prep bowl. Measure the sugar.

Peel each apple and get as much peel away from the stem and bottom. Using an apple corer/slicer, slice the apples and place in a large mixing bowl. Do not leave them very long before you add the other ingredients or they will begin to turn brown.

Add the lemon and orange juices, sugar, cinnamon, and nutmeg.

Using a zester, zest the lemon and orange into the apples. Use as little or as much zest as you prefer.

Using your hands or a large spoon, gently mix the apples to incorporate all the ingredients. Transfer apple mixture to the baking dish and make sure they are distributed evenly. Set aside.
For the Crisp
Grab the cubed Earth Balance from the fridge and add the bowl of you stand mixer. Add the flour, two sugars, oats, and kosher salt to the bowl. Attached the paddle, raise the bowl and mix on low until the Earth Balance becomes the size of peas. The texture should be a bit crumbly and slightly moist. Do not mix on a high speed or your crisp will be too moist and warm.

Add the crisp mixture evenly over the apples in the baking dish. Bake at 350 degrees for one hour or until the top is brown and the apples are bubbly. Remove from the oven and let cool about 10-15 before serving.

Serve the apple crisp alone or with a dairy free ice cream such as So Delicious' Very Vanilla Cashew Milk Frozen Dessert.

Leftovers can be stored in the fridge for up to 3 days. Enjoy
Nutrition
Calories:
485
kcal
Carbohydrates:
82
g
Protein:
2
g
Fat:
19
g
Saturated Fat:
5
g
Polyunsaturated Fat:
4
g
Monounsaturated Fat:
8
g
Trans Fat:
1
g
Cholesterol:
1
mg
Sodium:
294
mg
Potassium:
271
mg
Fiber:
6
g
Sugar:
60
g
Vitamin A:
106
IU
Vitamin C:
11
mg
Calcium:
35
mg
Iron:
1
mg