Growing up, the only fish I ever ate was coated in breading, frozen, and was from Mrs. Pauls: fish sticks. And, on rare occasions, I enjoyed fried shrimp when we went out to eat at a restaurant. When I got older, I ate more fish, but not much really beyond shrimp. In the last ten years, I have eaten AND cooked a vast array of seafood and now am a lover of most things that come from the oceans, rivers, and lakes.
If you love fish as I do, you will love this recipe. If you have a very trepidatious relationship with fish, this recipe may be what brings you to the "I do like fish" side.
This Mediterranean white fish recipe is easy to make, only uses one pan, and is flavorful, flaky, and delicious.
Recipe Notes
White fish typically has a mild flavor and is sometimes slightly sweet with a tender texture.

Use any white fish you can find. I used Great Lakes White Fish and have used Walleye. Some white fish options include pollock, bass, cod, grouper, haddock, and halibut.

If you use a thicker white fish, it may need more time in the oven.

I left the fish filets whole but if serving four people, you can cut eat filet in half to make four portions.

I used a combination of Castevelrano and Kalamata olives but you can use whatever olives you like the most. Keeping the Kalamata olives will add a more Mediterranean tone to the dish.

I quarter the cherry tomatoes and for a bigger burst of tomato flavor, half them instead.

You can use dried thyme and oregano instead of fresh. The conversion is 1 to 3: one part dried to three parts fresh. The recipe calls for 1 tablespoon of fresh herbs so when using dried herbs, use one teaspoon.

If you want to add a carb to this meal, try long-grain rice, pasta, garlic bread, or Boulangerie Potatoes.

I love to serve straight from the pan, but you can also plate each filet individually.
discover. cook. enjoy.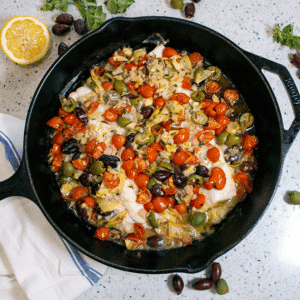 Gluten-Free, Dairy-Free Mediterranean White with Olives and Tomatoes
This one-pot white fish recipe is a flavorful, flaky, and fantastic option for quick dinners!
The Ingredients
1.5

lb

white fish

,

pollack, bass, cod, walleye, halibut, grouper, haddock

1

cup

cherry tomatoes

,

quartered

1/3

cup

Kalamata olives

,

pitted and halved

1/3

cup

Castelvetrano olives

,

pitted and halved

1/3

cup

artichoke hearts

,

rough chopped

3

tbsp

olive oil

4

cloves

garlic

,

minced

1

large

shallot

,

fine dice

1

tbsp

thyme

,

fresh, finely chopped

1

tbsp

oregano

,

fresh, finely chopped

1

lemon

,

for squeezing over the fish and veggies

Kosher salt and pepper

Maldon Sea Salt,

for garnish
The Process
Mise en Place
Gather all your ingredients. You will need a 12-inch cast iron skillet or sheet pan. Preheat your oven to 375 degrees.
Prep the Fish
Trim the filets if needed and cut into portions if desired. Inspect the fish for pin bones and scales and remove. Add the fish to the pan, skin side down and set aside while you prep the rest of the ingredients.
Prep the Other Ingredients
Slice the lemon and set aside. Slice the olives, quarter the tomatoes chop the artichoke hearts, mince the garlic, chop the thyme and oregano, and finely dice the shallot. Add all to a medium-sized mixing bowl. Season lightly with Kosher salt and pepper.

Add about a tablespoon of olive oil to the bowl and mix gently to combine. You may need to add a bit more olive oil to make sure all the ingredients are coated. Squeeze a bit of lemon juice into the bowl and mix again.
Combine and Bake
Season the fish with Kosher salt and pepper. Spoon the olive and tomato mixture over the fish and spread evenly. Add about 1-2 tablespoons of olive oil over the fish and other ingredients. Bake in a 375-degree oven for about 20 minutes. If you are using a thicker fish, the baking time may be closer to 25 minutes.
Serve and Enjoy!
Remove the pan from the oven. Squeeze lemon juice over the pan and sprinkle a bit of Maldon Sea Salt Flakes over the top. Serve from the pan or plate individually.
Nutrition
Calories:
311
kcal
Carbohydrates:
9
g
Protein:
36
g
Fat:
15
g
Saturated Fat:
3
g
Polyunsaturated Fat:
2
g
Monounsaturated Fat:
10
g
Cholesterol:
85
mg
Sodium:
433
mg
Potassium:
696
mg
Fiber:
3
g
Sugar:
3
g
Vitamin A:
337
IU
Vitamin C:
27
mg
Calcium:
69
mg
Iron:
2
mg