🥔 I love potatoes! Being gluten-free and dairy-free, potatoes have become my best friend over the years. Finding a new way to make them is always on my mind and with this recipe, my love for spuds and mayonnaise is on full display. The mustard aioli, fresh herbs, and wonderfully charred potatoes make a unique and delicious side dish you can serve with just about anything.
And the sauce! Obviously, it's great for this recipe but you can also serve this amazing sauce with grilled veggies, chicken (serve it with our Pretzel Chicken recipe), beef (see our Santa Maria TriTip recipe) port and so much more. 
discover. cook. enjoy.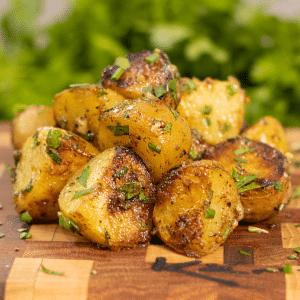 GF DF Grilled Mustard Potatoes
Baby Yukon gold potatoes, mustard aioli, fresh herbs combine on the grill to create a delicious and unique potato experience.
The Ingredients
For the Sauce
1

cup

mayonnaise

2

tbsp

Dijon mustard

2

tbsp

whole grain mustard

2

tsp

honey

1

tsp

balsamic vinegar

4

cloves

garlic

,

minced

kosher salt and pepper
For the Potatoes and Herbs
24

oz

Yukon gold potatoes

,

baby

1

tbsp

kosher salt

,

for parboiling the potatoes

1

tbsp

parsley

,

fresh chopped

1

tbsp

chives

,

fresh, chopped

1

tsp

rosemary

,

fresh, chopped fine

1

tsp

thyme

,

fresh, chopped fine

kosher salt and pepper
The Process
Mise en Place
Gather all your ingredients. Fill a large pan with water and 1 tablespoon of kosher salt and bring to a boil.
Make the Sauce
While the water is coming to a boil, measure all the sauce ingredients into a bowl and combine well. Cover and place in the fridge for at least 30 minutes.
Prep and Parboil the Potatoes, Chop the Herbs
Cut the baby Yukon Gold potatoes into quarters if they are larger and half if they are smaller. The goal is pieces as uniform in size as possible.

Once the water is boiling, add the cut potatoes slowly to avoid splashing and burning yourself. Boil for five minutes and then test for doneness. They are ready when the potatoes are softer but not completely cooked. Remove the potatoes from the heat, drain in a colander and let cool for about 10 minutes.

While the potatoes are cooking (or cooling) chop the chives, parsley, rosemary, and thyme. Add to a small bowl and mix to combine. Set aside.

While the potatoes are cooling, preheat your grill.
Grill the Potatoes
Add the potatoes to a grill basket. Sprinkle with kosher salt and drizzle sauce over the potatoes and mix to make sure sauce is evenly distributed.

Put the grill basket on the hottest part of your grill and cook for five minutes. Check to see if the potatoes are beginning to char and if so, mix the potatoes around the grill basket. Cook some more, check, mix, repeat until the potatoes achieve the crispiness and char you like.

Remove the grill basket from the heat and cool for about 5 minutes. After the potatoes have cooled a bit, and while they are still in the grill basket, add as much or as little sauce as you like and mix well to distribute the sauce. Add the herbs and mix again. You may want to add some kosher salt and pepper too but taste first to test.

Serve from the grill basket or transfer to a serving bowl and serve with a side of sauce for dipping.

Leftover sauce can be used for veggies, chicken, and so much more.
Nutrition
Serving:
5
oz
Calories:
270
kcal
Carbohydrates:
18
g
Protein:
2
g
Fat:
21
g
Saturated Fat:
3
g
Trans Fat:
1
g
Cholesterol:
12
mg
Sodium:
1141
mg
Potassium:
387
mg
Fiber:
2
g
Sugar:
3
g
Vitamin A:
96
IU
Vitamin C:
19
mg
Calcium:
23
mg
Iron:
1
mg