You've heard me say this before: "when you're gluten-free, you miss things." And egg rolls and potstickers are definitely two "things" I sorely missed. Many years ago, Feel Good Foods' frozen egg rolls and potstickers arrived in stores, and I was delighted! I could not wait to try them.
We started cooking with the method in the recipe below from the start and still cook them this way today. It's a foolproof method that creates restaurant-quality egg rolls and potstickers.
Add spicy mayo and tamari sauce for dipping for a completely delicious appetizer or meal.
discover. cook. enjoy.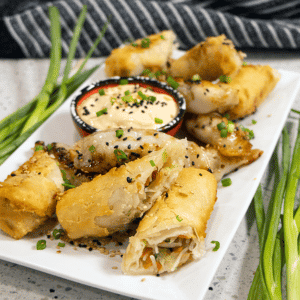 The BEST Way to Cook Feel Good Foods Eggs Rolls & Potstickers (GF/DF)
You'll be amazed by the taste and texture of the Feel Good Foods egg rolls and potstickers when you use our method of cooking.
The Process
Do NOT thaw the egg rolls or potstickers before cooking. Reserve the sauce packet that come with the potstickers.
For the Egg Rolls
Add about 1 1/2 inches of sunflower oil to a heavy medium-sized skillet or pan and heat to 375 degrees. Use a probe thermometer to test.

Slowly add the egg rolls and turn every two minutes, three to four times, or until golden brown and crispy. You may need to increase the heat to keep the oil at 375 degrees while cooking. Use a probe thermometer while cooking to keep an eye on the temperature. Remove to a paper towel-lined pan or plate to cool.
For the Potstickers
Using a pan large enough to fit the bamboo steamer (skillet will work) and add about an inch of water to the pan, place the steamer in the pan, and bring the water to a boil. Add the potstickers, flat side down, leaving room between them, and put on the steamer lid, and cook for about 7-10 minutes. Place the sauce packet on top of the steamer lid to thaw it out. Check the potstickers in about 7 minutes. If they release from the steamer easily, they are done. If not, keep steaming them. When done, remove them from the steamer.

Heat a small amount of sunflower oil in a skillet on medium-high. Add the potstickers, flat side down. Cook for 2-3 minutes. Add the sauce packet and cook for 3-5 minutes or until they start to get some color. Remove from the pan to cool slightly.
Plating and Garnish
Slice the egg rolls in half at an angle and add to a serving dish. Add the potstickers. Garnish with white and black sesame seeds and sliced green onions. Add a bowl of spicy mayo and enjoy!
Nutrition
Calories:
677
kcal
Carbohydrates:
33
g
Protein:
6
g
Fat:
60
g
Saturated Fat:
6
g
Polyunsaturated Fat:
2
g
Monounsaturated Fat:
46
g
Cholesterol:
16
mg
Sodium:
563
mg
Potassium:
128
mg
Fiber:
2
g
Sugar:
5
g
Calcium:
38
mg
Iron:
1
mg