When I was younger, I hated cucumbers. I think it was the seeds, to which I have a strong aversion. Then, I discovered English cucumbers and never looked back. 
I've been making this salad for years in different variations, mostly with Italian Vinaigrette. This version, Greek-style, incorporates Greek ingredients such as Kalamata olives, Feta cheese, and a Greek-style dressing.
I am dairy-free, or more specifically, cow-dairy-free, and can tolerate, in smaller doses, sheep and goat-based cheeses. The Feta in this salad really makes it pop but if you cannot tolerate Feta, the salad is wonderful without it.
If you're looking for an alternative to classic summer salads, this Greek-style cucumber tomato salad may be just what you're looking for. Fresh English cucumbers, Roma tomatoes, red onion, Kalamata olive, and Feta cheese are tossed in a from-scratch Greek dressing, creating a delicious side dish. Serve this flavorful cucumber tomato salad with just about any protein for a wonderful summer meal. We paired the salad with breaded, grilled Zatar lamb chops for an amazing Greek meal. Both recipes are below.
Recipe Notes
English cucumber works best in this recipe but you can substitute regular cucumbers.

I use Roma tomatoes but you can use just about any tomato. A grape tomato would work well too.

If you cannot tolerate sheep or goat cheese, eliminate the cheese, or try Violife's Vegan Feta. 

If you can eat dairy of any kind, I still recommend the sheep and goat blend of Feta. It's traditional and has a creamier texture than 100% goat Feta or cow-based Feta.

If you are not serving the salad immediately after making it, put the cut veggies in a colander set inside a large bowl, and refrigerate. This will help the moisture leach out from the veggies before you add the dressing and Feta. 

I used white wine vinegar for the dressing and you can use red wine vinegar instead for a more tangy flavor.
discover. cook. enjoy.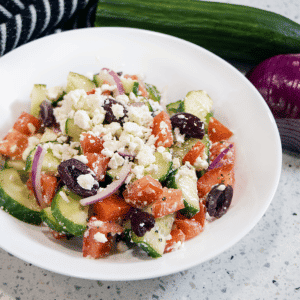 Gluten-Free, Dairy-Free Greek-Style Cucumber Tomato Salad
A quick, easy, and oh-so-delicious summer salad packed with Greek flavors and ingredients.
The Ingredients
For the Veggies
1

large

English cucumber

,

chopped

3

large

Roma tomatoes

,

chopped

1/2

red onion

,

sliced

1/3

cup

Kalamata olives

,

sliced in half

5

oz

Feta cheese

,

sheep and goat blend, crumbled
For the Greek Dressing
2/3

cup

olive oil

1/3

cup

white wine vinegar

1

clove

garlic

,

minced

1

tsp

oregano

,

dried

1/2

tsp

Dijon mustard

1/2

tsp

honey

Kosher salt and pepper
The Process
Prep the Veggies
Chop the cucumber and tomatoes into bite-sized pieces and add to a large mixing bowl. Slice the red onion into about 1.5-inch long slices and add to the bowl Slice the Kalamata olives in half and add to the bowl. Mix gently to combine. Set aside.

If you are not serving the salad immediately, or within an hour or so, transfer the veggies to a colander, set it inside a large bowl, and put the colander and bowl in the fridge until you're ready to finish the salad. This will help the moisture leach from the veggies.
Make the Dressing
Add all the ingredients to a squeeze bottle and shake vigorously to mix. If not using a squeeze bottle, add all the ingredients to a small bowl and whisk to combine. Season with Kosher salt and pepper to taste.
Finish the Salad
Squeeze or add about 2-3 tablespoons of the dressing to the cucumber and tomato mixture. Add more or less to suit your level of "dressed." Crumble the feta over the top of the salad. Serve and enjoy!!
Nutrition
Calories:
309
kcal
Carbohydrates:
6
g
Protein:
4
g
Fat:
30
g
Saturated Fat:
7
g
Polyunsaturated Fat:
3
g
Monounsaturated Fat:
19
g
Cholesterol:
21
mg
Sodium:
396
mg
Potassium:
191
mg
Fiber:
1
g
Sugar:
3
g
Vitamin A:
446
IU
Vitamin C:
7
mg
Calcium:
141
mg
Iron:
1
mg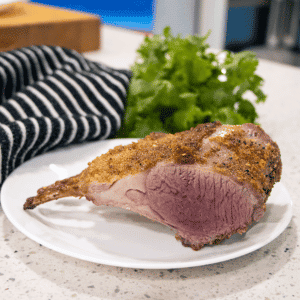 Gluten-Free Dairy-Free Grilled Breaded Zatar Lamb Chops
Greek-style lamb chops bursting with flavor and texture.
The Ingredients
6

lamb chops

,

or one rack. Costco is a great source.

1/2

cup

bread crumbs

,

gluten-free

1

tbsp

Zatar,

dried seasoning

1

tbsp

Dijon mustard

Kosher salt and pepper
The Process
Add the Zatar to the bread crumbs and mix to combine.

Spread the Dijon over both sides of the lamb. Season the lamb with kosher salt and pepper.

Coat the lamb with the bread crumb mixture.

Grill on foil for 12-15 minutes, turning once. Alternately, cook in a 400-degree oven for fifteen minutes or until medium rare. Enjoy!
Nutrition
Calories:
322
kcal
Carbohydrates:
7
g
Protein:
43
g
Fat:
12
g
Saturated Fat:
5
g
Polyunsaturated Fat:
1
g
Monounsaturated Fat:
5
g
Cholesterol:
129
mg
Sodium:
193
mg
Potassium:
557
mg
Fiber:
1
g
Sugar:
1
g
Vitamin A:
2
IU
Vitamin C:
1
mg
Calcium:
38
mg
Iron:
4
mg