I must admit, I discovered this amazing dipping sauce very recently. Then I asked myself where it had been all my life?!
Toum is a fantastic Lebanese dipping sauce with a fluffy texture and wonderful garlic and lemon flavor. If you don't like garlic, and lots of it, this recipe is not for you. If you are a garlic lover, then jump right in and make this amazing dipping sauce. 
Toum is perfect with Chicken Shawarma and Saffron Rice, as well as just about any other chicken dish. You can also use it as a dip for your french fries, artichokes, and more. This garlic whip (Toum) is dairy-free and vegan, the perfect substitute for garlic aioli if you're vegan, or other garlicky dairyful sauces if you're dairy-free.
Recipe Notes
I use an 11-cup food processor, and an 8-cup will work well too.

One cup of garlic cloves is about 2 bulbs of garlic.

Follow the recipe EXACTLY to avoid breaking the whip.

Make sure your garlic "puree" is smooth before you start adding the oil. If not, you will have a weirdly textured garlic whip.

Leftovers can be stored in the fridge in an airtight container for up to 4 weeks.

Recipe makes about 4 cups and each serving is 2 tablespoons.
discover. cook. enjoy.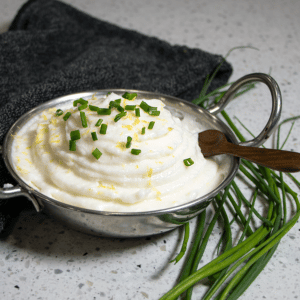 Addictive & Delicious Garlic Whip (Toum) Dipping Sauce
This Lebanese dipping sauce is dairy-free and vegan and oh-so delicious!
The Ingredients
1

cup

garlic cloves

,

peeled

2 1/2

tsp

kosher salt

1/2

cup

lemon juice

,

freshly squeezed

3 1/2

cups

sunflower oil,

or canola oil

2

tbsp

ice water
The Process
Mise en Place
You will need a food processor with the standard blade for this recipe. An 8 cup should do nicely.

Peel the garlic, measure the oil, squeeze and measure the lemon juice, measure out the salt and the ice water.
Start Whipping!
Add the garlic and kosher salt to the food processor. Pulse for 30 seconds to break down the garlic into smaller pieces. Scrape the garlic down from the sides of the food processor. Mix on high for 3 minutes, stopping every minute to scrape the sides.

Your food processor will not stop during the entire process from this point on. Measure one cup of oil from the 3.5 cups into a smaller measuring cup. Turn on the food processor and slowly drizzle the 1 cup of oil into the processor. Now, slowly drizzle in 2 tablespoons of lemon juice.

You should start to see the whip begin to form. Repeat with 1 cup of oil and 2 tablespoons of lemon juice.

Now, the measurements will change slightly. Measure one-half cup of oil into the smaller measuring cup. Slowly drizzle the 1/2 cup of oil into the processor. Now, slowly drizzle in 1 tablespoon of lemon juice. Repeat with 1/2 cup of oil and 1 tablespoon of lemon juice.

Slowly drizzle the rest of the oil into the garlic whip. Now, slowly drizzle 2 tablespoons of ice water into the whip. Turn off the food processor and take a look at the fabulous garlic whip. Oh, and give it a taste.
Serving and Storage
Serve with Chicken Shawarma, other chicken dishes, Saffron Rice, or use as a dip for french fries, artichokes, and so much more.

Store in an airtight container in the fridge for up to 4 weeks.
Nutrition
Calories:
218
kcal
Carbohydrates:
2
g
Protein:
0.3
g
Fat:
24
g
Saturated Fat:
2
g
Polyunsaturated Fat:
1
g
Monounsaturated Fat:
20
g
Sodium:
182
mg
Potassium:
21
mg
Fiber:
0.1
g
Sugar:
0.1
g
Vitamin A:
1
IU
Vitamin C:
3
mg
Calcium:
8
mg
Iron:
0.1
mg