I do love a good mayonnaise-based salad! And my favorite vegetable is broccoli. So, it's no wonder this is one of my favorite summer salads.
Prior to making this recipe a few years back, I would never eat raw broccoli, only the cooked variety. I just didn't like the texture or the flavor of those crunchy, tiny trees in their raw form. Then, my mother-in-law served her broccoli salad at a family gathering and I was in love as soon as it hit my mouth. She gave me the recipe so I could make it myself and I knew I wanted to make a few changes, making it my own.
I swapped out the sunflower seed with toasted walnuts and the raisins with craisins, with each bringing a different flavor and depth to the salad. I also wanted to reduce the recipe's four tablespoons of sugar so I switched to two tablespoons of granulated sugar and one tablespoon of honey. I replaced the sour cream with Tofutti dairy-free sour cream, added a few other ingredients to the sauce, and voila! I had an updated broccoli salad, tailored to my likes.
I encourage you to do the same to this recipe. Switch ingredients, add ingredients, remove ingredients, do whatever you like to make it your own. And, let me know what you changed and how it turned out!
Let me know how you like the recipe!
discover. cook. enjoy.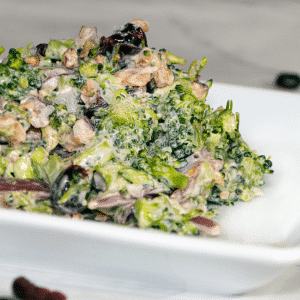 GF DF Broccoli Salad
Broccoli, bacon, mayo, and more join together in this updated and dairy-free take on a classic and delicious summer salad.
The Ingredients
3

lb

broccoli

,

fresh

1/2

lb

bacon

1

med

red onion

,

medium dice

1

cup

Craisins

1

cup

walnuts

,

chopped and toasted

1

cup

Mayonnaise

1

tsp

Worcestershire sauce

2

tbsp

sugar

,

granulated

1

tbsp

honey

1

tbsp

apple cider vinegar

1

dash

fish sauce

kosher salt and pepper to taste
The Process
Mise en Place
Preheat your oven to 450 degrees.

Gather all your ingredients.

Measure out all ingredients into prep bowls and set aside.
Bake the Bacon
Add the bacon to the cooling rack/sheet pan.

Add freshly ground pepper.

Bake the bacon in the oven at 450 degrees for about 15 minutes or until crispy. Remove the bacon from the oven and let cool.
Chop the Broccoli and Dice the Onion
While the bacon is cooking, chop the broccoli into bite-sized pieces and place them in a large mixing bowl. I like my broccoli flowerets to be small but cut them into any size you like. I typically do not use much of the stems.

Cut the onion into a medium dice and add to the bowl with the broccoli.
Toast the Walnuts
If you are using whole walnuts, chop them into pieces.

Heat a saute pan on medium and add the walnuts. Watch carefully. The nuts will toast quickly and burn even more quickly. As soon as you smell walnuts, remove them from the heat. Leaving them any longer will result in burnt walnuts. Set aside to cool. Once cooled, add the bowl with the broccoli and onions.
Make the Sauce
Add the mayo, Tofutti, apple cider vinegar, Worcestershire sauce, fish sauce, sugar, and honey to a small mixing bowl and mix well with a whisk. Taste and add salt and pepper if needed. Set aside.
Crumble the Bacon
Your bacon should be out of the oven and cooled. Now, crumble it by hand or use a chef's knife to cut them into bite-sized pieces. Add to the bowl with the broccoli, onions, and walnuts
Finish the Salad
Mix the broccoli, onions, walnuts, and bacon together to combine.

Add half the sauce and combine well.

Add more sauce, as much or as little as you like, until your broccoli salad has your desried consistency. Taste and season with salt and pepper if needed.
Enjoy!
Serve your broccoli salad as a side dish to just about any meal or eat as its own meal.

Store in the fridge for a week.
Nutrition
Serving:
0.5
cup
Calories:
222
kcal
Carbohydrates:
10
g
Protein:
2
g
Fat:
20
g
Saturated Fat:
5
g
Trans Fat:
1
g
Cholesterol:
13
mg
Sodium:
98
mg
Potassium:
208
mg
Fiber:
2
g
Sugar:
6
g
Vitamin A:
360
IU
Vitamin C:
51
mg
Calcium:
33
mg
Iron:
1
mg