Mm, shrimp scampi! It was the last dish I ate before I became an ovo-lacto vegetarian in the early nineties. Then, for sixteen years I did not eat meat or fish, and then, I went gluten and dairy-free. So, before I started making the recipe this year, I had a 14-year hiatus with the amazing dish. I am so happy I have it back in my life.
Buttery, garlicky shrimp! Oh, what's not to love about that? In this dairy-free recipe, the dairyful butter is replaced with Earth Balance Buttery Spread and additional ingredients are added to replace the missing flavor and depth the dairyful butter adds. If you're dairy-free, I am fairly certain you will LOVE this dish! And, it makes a quick and easy weeknight meal.
Serve it over rice or pasta, or eat it by itself with some crunchy garlic bread (try our French Baguette flour blend).
Let me know how you like the recipe!
discover. cook. enjoy.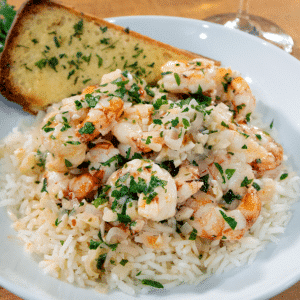 GF DF Shrimp Scampi
"Buttery" and garlicky deliciousness make this classic shrimp dish sing with flavor.
The Ingredients
For the Shrimp
1

lb

shrimp

,

large or extra large

4

tbsp

Earth Balance Buttery Spread,

or similar dairy-free "butter

4

cloves

garlic

,

minced

1

shallot

,

small to medium diced

1/2

cup

white wine

,

your choice!

1/8

tsp

tarragon

,

dried

1/8

tsp

red pepper flakes

lemon

,

fresh

2

tbsp

olive oil

kosher salt and pepper

fish sauce
For the Rice
1

cup

long-grain rice

,

texmati, jasmine, or basmati

1

cup

chicken stock

,

or veggie stock

1

cup

water

kosher salt
The Process
Get the Rice Cooking
Measure 1 cup stock and 1 cup water into a medium saucepan. Add 1 cup rice and a bit of kosher salt. Bring to a boil, reduce to low, and simmer for 20 minutes.

If using pasta instead of rice, get the pasta water boiling and cook the pasta. You will need 1/2 cup of the pasta water so grab that before you drain the cooked pasta.
Mise en place
Gather all your ingredients

Measure the Earth balance into a prep bowl

Measure white wine into a measuring cup.

Peel and devein the shrimp unless it is peeled and deveined already. Add a light amount of kosher salt and pepper. Set aside.

Mince the garlic, dice the shallot, and chop the parsley. Place in separate prep bowls

Measure tarragon and red pepper flakes and place in a prep bowl. You can put both in the same bowl.

Slice the lemon in half and keep one-half ready to squeeze.

Have fish sauce bottle out and part of your mise en place.
Cook the Butter, Garlic, Shallots, and Wine
Heat your skillet on medium-high and add 2 tablespoons olive oil to the pan

Add the Earth Balance to the pan and melt completely

Once the butter is melted, add the shallots and the garlic and cook until garlic is fragrant and shallots are slightly transparent.

Add the wine, red pepper flakes, and tarragon, and a squeeze of lemon. Cook for 3-4 minutes to allow the wine to cook down to cook out the alcohol.
Cook the Shrimp
Add the shrimp to the pan in a single layer and cook until they start to curl a bit and turn pink. Flip the shrimp and cook about 1 minute or so longer or until they look done, but not too done.

Turn off the heat, add the parsley (leave some for garnish if you like) and a squeeze of lemon.

If you are serving this with pasta, transfer the shrimp and its sauce to the pan with the drained pasta. Add the reserved pasta water and gently mix all together with a tong and serve.
Plate and Eat
Add rice to eat plate then add the shrimp and drizzle the sauce from the pan over all. Sprinkle with parsley, serve and enjoy.
Nutrition
Serving:
10
oz
Calories:
400
kcal
Carbohydrates:
42
g
Protein:
28
g
Fat:
10
g
Saturated Fat:
1
g
Cholesterol:
288
mg
Sodium:
976
mg
Potassium:
264
mg
Fiber:
1
g
Sugar:
2
g
Vitamin A:
23
IU
Vitamin C:
6
mg
Calcium:
192
mg
Iron:
3
mg