I am not a fan of pineapple on pizza. I think I just don't like the combination of tomato sauce and pineapple but it could go deeper than that.
For my part of the "Pineapple Pizza Challenge" I chose to do Detroit-style pizza and made a very conscious effort to hide the pineapple.
It worked and I ended up liking the pizza. I am fairly certain switching a red sauce for a BBQ sauce made much of the difference. Oh, and adding the jalapenos helped a ton in drowning out the pineapple.
discover. cook. enjoy.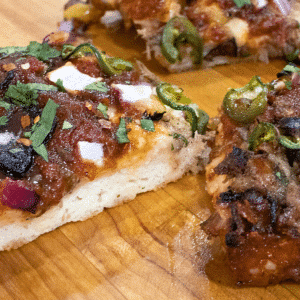 Rich's GF Hide-the-Pineapple Detroit-Style BBQ Pizza
If you are not a fan of pineapple on pizza, but want to try it, this recipe is for you!
The Ingredients
1

gf explorers pizza crusts,

detroit style crust

6

oz

Mozzarella cheese

,

75% of the cheese

2

White Cheddar cheese

,

25% of the cheese

jalapenos

,

sliced

red onion

,

sliced

cilantro

,

chopped

1/4

pineapple

,

fresh, grilled
The Process
Mise en Place
Gather all your ingredients.

Have your parbaked Detroit-Style pizza crust ready in the pan

Slice the onions and jalapenos and chop the cilantro and put in prep bowls and set aside.

Have your pulled pork ready. If you are pulling it from your stash in the freezer, thaw it out.

Core the pineapple and take a quarter of it, leaving it in large pieces for grilling.

Preheat the oven to 400 degrees.
Grill the Pineapple
Place the pineapple on the grill and cook until charred, turning often.

Remove from the grill and let cool.

Once cool, chop into bite-sized pieces.
Top the Pizza
Add the cheese, remembering to get it down between crust and the pan on all sides. Use the rest of the cheese for the top of the pizza, covering it so no crust is showing.

Add the pineapple, pulled pork, jalapenos and red onions.

Add two strips of BBQ sauce.
Bake the Pizza
Place pizza in a 400 degree oven for 10-15 minutes.

You may want to broil on high for the last few minutes to get more color on the top.
Garnish, Slice and Eat
Let the pizza cool for about five minutes.

Using a strong spatula, loosen the pizza on all sides of the pan and gently slide the spatula under the pizza to remove the entire pizza from the pan.

Slice once, lengthwise to cut the pizza and half and then make two slices on the short side, resulting in 6 slices.

Top with cilantro and enjoy!