First, I must admit, in my quest to create an amazingly delicious cheeseless pizza, I may have created a bit of a complicated recipe. But, don't let that stop you from trying this recipe. You will be so rewarded with flavor and deliciousness, it will be worth it!
Dairy-free, cheeseless pizzas, in my opinion, need to be extra flavorful to make up for the absence of cheese. They also need to include many more ingredients than you may include on dairyful pizzas. Hence the more robust recipe.
In our "Does Pineapple Belong on Pizza" challenge, Rich and I had completely different goals. I LOVE pineapple on pizza and chose to highlight it. He, on the other hand, tried to hide it. I hope you like this "ode to pineapple pizza" as much as I did.
discover. cook. enjoy.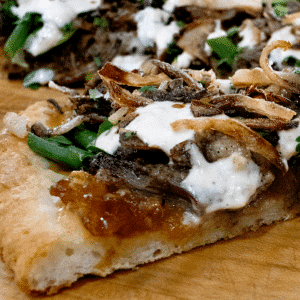 GF DF Pineapple Pork Adobo Pizza
A dairy-free pineapple Adobo sauce combined with pulled pork, frizzled onions and more!
The Ingredients
For the Sauce
1/2

pineapple

,

fresh, cored and chopped into pieces

1/2

onion

,

white or yellow, diced

3

cloves

garlic

,

diced

1

tbsp

Tofutti Sour Cream

,

or other DF sour cream

1/3

cup

rice vinegar

,

unseasoned

1/2

cup

Tamari sauce

2

tbsp

oyster sauce,

gluten-free

2

bay leaves

,

dried

Kosher salt and pepper to taste
For the Crema
1

tbsp

Tofutti sour cream

,

or other DF sour cream

1

tsp

mayonnaise

1

tsp

Tamari sauce

Sriracha

,

a splash or more if you like it spicy
For the Garnish
1

tbsp

cilantro

,

fresh, chopped

1

green onion

,

sliced

sesame seeds
The Process
Mise en Place
Gather all your ingredients and equipment. You will need a small saucepan and a small saute pan.

Core pineapple and cut half of it into small pieces

Chop onion into a small dice

Measure out all the ingredients for the sauce.

Slice the onions for the frizzle and put in a small bowl. Add the cooking flour blend, a bit of salt and pepper and mix well. Set aside

Chop the cilantro and the green onions for the garnish. Set aside for later.

Have your pulled pork ready. If you are pulling it from your stash in the freezer, thaw it out.
Cook the Pineapple
Add the pineapple to a small saucepan and cook on medium for about 15-20 minutes or until the pineapple breaks apart into smaller pieces. You will want to stir often. If the pineapple starts to brown, turn down your heat.
Saute the Onion and Garlic
Heat sunflower oil on medium in a small saucepan. When the oil is hot, add the onions and garlic, a small amount of salt and pepper and cook until the garlic is fragrant and the onions are translucent. You do not want any color on either ingredient.
Cook the Sauce
Add the sauteed onions and garlic, tamari, rice wine vinegar, oyster sauce, and bay leaves to the pineapple and cook on medium for about 10-15 minutes or until the sauce reduces some and thickens. If your sauce comes to a high boil, reduce heat.

Let the sauce cool in the pan while you frizzle the onions.

Preheat the oven to 400 degrees.
Frizzle the Onions
Bring the half cup of sunflower oil to 375 degrees. Test with a probe thermometer or infrared thermometer.

Once oil is at temp, add a small amount of the floured onions. You do not want to overfill and crowd the pan!

Remove the onions to paper towels once you have achieved your desired level of goldenness.

Repeat the above step until all your onions are frizzled. Set onions aside for later.
Assemble and Cook the Pizza
Top your pizza crust with as much sauce as you prefer.

Add as much pulled pork as you prefer.

Bake in a 400-degree oven for about 10-15 minutes or until the crust achieves the level of crispyness you are desiring. Remove from the oven and let cool for about 5 minutes.
Make the Crema
While the pizza is baking, grab a small bowl and meaure the crema ingredients into the bowl. and mix well.
Garnish the Pizza and Eat!
Before topping the pizza with the garnish, slice into eight slices.

Add the garnish in this order: crema, green onions, cilantro, sesame seeds, and finally the frizzled onions.