In the early days of my gluten-free journey, PF Chang's was one of the first restaurant chains to add a gluten-free menu. Because of that, I ate there quite often. I ordered the lettuce wraps a few times thought they were pretty good. It has been many years since I've been to PF Chang's and then one day, after making my favorite Beef and Broccoli, I remembered them and said to Rich, "I need to make PF Chang's Lettuce Wraps!"
If you've been following along for a while, you'll know I always had a bit of a reaction to PF Chang's food (the PF Chang pain as I called it). I finally decided that I would not subject my body to pain and sickness anymore and had to say goodbye to  PF Chang's for good. I may have said goodbye to the restaurant, but I did not need to say goodbye to the dishes.
That's one of the many things I love about cooking: you control both the ingredients and the environment the dish is made in. No sickness, no pain, just delicious gluten-free food. If you have a favorite restaurant dish you can no longer enjoy, you may want to consider creating that dish at home from scratch. 
To recreate the PF Chang's chicken lettuce wraps recipe, I did what I usually do when developing a new recipe: head to Google. I researched chicken lettuce wraps and there were a large number of recipes to investigate. I found six I wanted to delve into further and do my "compare and contrast" technique to discover what my recipe would entail.
The chicken lettuce wraps recipe I created borrows a few ideas from some of the recipes, and also some flavor ideas from other recipes I have created or made. My recipe is has a super-flavorful sauce combined with chicken breast, mushrooms, onions, water chestnuts, and ample amounts of garlic and ginger. 
I was looking for a crunchy element for the garnish, so experimented with frying rice sticks (they are so much fun to fry) and topped each lettuce boat with them. These chicken lettuce wraps have a terrific flavor and texture and make a great appetizer or main dish.
Recipe Notes
I use a wok for this recipe but you can use a large skillet instead.

Butter lettuce works great for the lettuce boats. Romain, not so much. Living lettuce is a good choice too, and I found some small lettuce boats at Sprouts, made from butter and red leaf lettuce that worked well too.

I made these a few times using crushed peanuts for garnish and that added a nice crunch and flavor

Sesame seeds are also a terrific garnish

Spicy mayo as a topping takes these lettuce wraps to a new dimension!

If you wanted to serve this recipe as a main dish, you could skip the lettuce boats and serve it over rice or rice noodles. If you plan to do this, you may want to make a bit of extra sauce.
Give this recipe a try and let me know how you think it compares to PF Chang's.
discover. cook. enjoy.
Kitchen Gear and Products We Love
We have found that having the right tools in the kitchen can really help make cooking more fun and easy. Check out our favorite tools here! Also check out the gluten-free, dairy-free products we use and love here!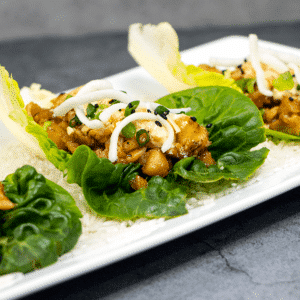 Gluten-Free, Dairy-Free Chicken Lettuce Wraps
Easy and delicious, these chicken lettuce wraps are way better than the PF Chang's version and make a great appetizer or main dish.
The Ingredients
The Process
Make the Sauce
Gather all the ingredients for the sauce. Measure each ingredient and add to a small bowl. Mix to combine. Set aside
Fry the Rice Sticks
Heat a cup of sunflower oil on the stove in a sturdy saucepan to 380 degrees. Drop in a rice stick to test if the oil is hot enough. The rice stick will sink then almost immediately puff up and rise to the surface if the oil is hot enough. Add a small number of rice sticks at a time. Do not overcrowd the pan. Remove from pan with spider spoon and let drain on a paper towel. Sprinkle with kosher salt. Continue until all rice sticks are fried. Set aside.
Prep the Garnish
Prepare the lettuce boats and add to a serving dish. Slice the green onions for garnish.
Prep the Chicken and Aromatics
Slice the chicken tenders into small pieces, about 1 inch thick. Season both sides with kosher salt and pepper.

Chop the mushrooms, water chestnuts, and dice the onion. Mince the garlic and ginger. Set aside.
The Stir Fry
Heat a tablespoon of sunflower in your wok or skillet. Add the chicken in an even layer and do not turn until you see white coming up the sides of the chicken. The goal here is to achieve some color on the chicken, which is flavor! Turn the chicken and cook until done. If you are using a wok, you may need to cook in batches so as to not crowd the wok. When the chicken is done, transfer to a plate.

If there is no oil left in the pan, add about a tablespoon and then add the mushrooms, onions, and water chestnuts. Cook until softened but do not cook high or long enough to add color. When done, push to the side of the wok or pan and add the sesame oil to the pan. Add the garlic and ginger and cook until fragrant, about 30 seconds.

Add the chicken back to the wok or pan and stir to combine. Add the sauce and let cook, stirring often, about 3-4 minutes. The sauce will thicken some while it cooks.
Assemble, Garnish, Enjoy!
Add a small amount of the chicken mixture to each lettuce boat. Garnish with green onions and rice sticks and any other garnish you are using. Enjoy!
Nutrition
Calories:
554
kcal
Carbohydrates:
15
g
Protein:
19
g
Fat:
47
g
Saturated Fat:
5
g
Polyunsaturated Fat:
3
g
Monounsaturated Fat:
37
g
Trans Fat:
1
g
Cholesterol:
49
mg
Sodium:
907
mg
Potassium:
426
mg
Fiber:
2
g
Sugar:
6
g
Vitamin A:
44
IU
Vitamin C:
3
mg
Calcium:
21
mg
Iron:
1
mg