It's crazy to me, as much as I love cabbage, it took me so long to roast it in the oven. What was I thinking?
Now, I don't think I will ever cook cabbage any other way. The flavor and texture far surpass anything you can achieve by boiling cabbage. And, the best part is that you can alter this recipe to suit your own tastes. Well, the other best part is that it is so easy to make!
Recipe Notes:
You can replace the dried thyme with just about any herb. Use Zatar for a Greek-style cabbage, Italian seasonings for, well, Italian-style, and herbs such as marjoram, rosemary, and even sage will work well too.

If you don't like or cannot eat garlic, leave that out.

Pancetta, Proscuitto, or crumbled bacon works well as a garnish/

For a "potato" style dish, you could add dairy-free sour cream and bacon crumbles

Leftovers reheat well
discover. cook. enjoy.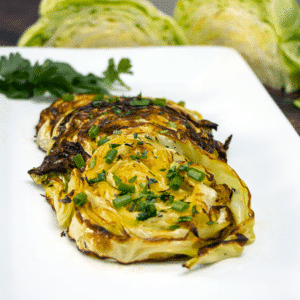 Gluten Free, Dairy Free Oven-Roasted Cabbage
Quick, easy, and the most delicious way to enjoy cabbage!
The Ingredients
2

lb

cabbage

,

small to medium head 2-2.5 pounds

1/4

cup

olive oil

2

cloves

garlic

,

grated

1

tsp

thyme

,

dried

kosher salt and pepper

crumbled bacon for garnish

,

optional

sliced green onions for garnish

,

optional

chopped parsley for garnish

,

optional

lemon wedges for garnish

,

optional
The Process
Mise en Place
Gather your ingredients. Preheat your oven to 425 degrees. You will need a sheet pan.
Make the seasoning
Add the olive oil and thyme to a small bowl and mix to combine. Using a microplane, grate the garlic into the bowl with olive oil and thyme. Mix to combine. You will not be able to grate the entire clove unless you want to grate your fingertips too! Set aside.
Slice the Cabbage
In this recipe, I slice the cabbage into "steaks" and you can alternately slice the cabbage into wedges. Find the flattest side of the cabbage on position it down on your cutting board. Start slicing the cabbage into 1-inch slices and place them on the sheet pan. If you have a small to medium-sized cabbage, the steaks should be manageable. If your cabbage is quite large, you may want to cut it into wedges instead.
Baste and Bake
Using a pastry brush, brush the oil mixture on the top of each cabbage steak. Season well with kosher salt and pepper.

Place in a 425-degree oven and set a timer for 15 minutes. After 15 minutes, flip the cabbage and return to the oven for another 10-15 minutes.

As they cook, the cabbage steaks will spread out and not stay together as well as they did when they were raw and that is okay and expected.
Garnish and Serve
There are many ways to garnish the cabbage and they taste amazing with no garnish at all. Some garnish ideas: crumbled bacon, green onion slice, chopped parsley, and a squeeze of lemon to each cabbage steak and serve.
Nutrition
Calories:
143
kcal
Carbohydrates:
11
g
Protein:
2
g
Fat:
11
g
Saturated Fat:
2
g
Polyunsaturated Fat:
1
g
Monounsaturated Fat:
8
g
Sodium:
33
mg
Potassium:
316
mg
Fiber:
5
g
Sugar:
6
g
Vitamin A:
197
IU
Vitamin C:
67
mg
Calcium:
76
mg
Iron:
1
mg