When I was a kid, a very long time ago, pork chops were a staple in our house. I remember them being moist and flavorful and excited when they were on the dinner menu, no matter how they were cooked. I may be remembering those pork chops in a more positive light than they actually were, but it seems to me that pork chops in the last 10 plus years, if not longer, have become dry and flavorless, and lack the wonderfulness of the pork chops from my youth.
Because of this, Rich and I strive to find new ways to make today's pork chops to overcome their lack of flavor and fat. Finding heritage pork chops would take care of much of the issue but those are not as easy to find, and they are quite expensive.
I fell in love with this pork chop recipe the first time I made it. The pork chops cook in a skillet topped with fresh herbs and garlic and at the shallots and butter (dairy-free, of course for us) are added at the end for a luscious flavor and presentation. The pan searing and cooking method keep the pork chops moist and tender and the one-pot keeps the dish quick and easy. To create a full meal, these delicious pork chops will go well with potatoes or rice, and a roasted vegetable.
Recipe Notes:
This recipe works best with thin-cut chops. If you use medium or thick-cut, you will want to finish them in the oven instead of in the skillet.

You can grill the pork chops instead of cooking them in the skillet. Just don't flip them or you will lose the lovely herbs. You will also not need the sunflower oil called for in the recipe.
discover. cook. enjoy.
Kitchen Gear and Products We Love
We have found that having the right tools in the kitchen can really help make cooking more fun and easy. Check out our favorite tools here! Also check out the gluten-free, dairy-free products we use and love here!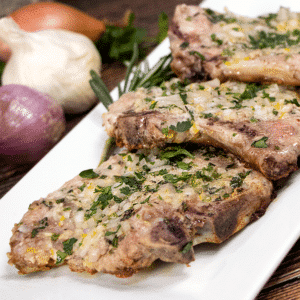 Gluten-Free, Dairy-Free Shallot, Herb, and Butter Pork Chops Recipe
Delcious and tender, these pork chops will delight with their fresh herbaceousness and luscious "buttery" flavor.
The Ingredients
For the Chops
4

pork chops

,

bone-in, thin-cut

kosher salt and pepper

1

tbsp

sunflower oil
For the Herb Mixture
2

tbsp

olive oil

1.5

tbsp

fresh chives

,

finely chopped, 1 tsp dry

.5

tsp

fresh thyme

,

finely chopped

.5

tsp

fresh rosemary

,

finely chopped

2

cloves

garlic

,

minced
The Process
Mise en Place
Season each pork chop, both sides, liberally with kosher salt and pepper, set aside to come to room temperature.

Chop the fresh herbs, mince the garlic, and combine all in a small bowl, stir in the olive oil and set aside.

Dice the shallots, grate the lemon rind and add to the softened Earth Balance in a small bowl and mix to combine. Set aside.
Cook the Pork Chops
Spread the herb evenly over one side of each pork chop. Heat the sunflower oil in a sturdy skillet, preferably cast iron, over high heat. When the pan and oil are hot, add the pork chops with the herbed side facing up. You should hear a distinct sizzle when they hit the pan. If you do not, your pan is not hot enough. Let the pork chops cook undisturbed for 3-4 minutes, depending upon how thick your chops are.

Then, turn heat to medium and let the pork chops cook until a thermometer inserted into the thickest part of the chop reads 155 degrees. You may not be able to temp thin chops with a probe thermometer, so check for doneness by poking the top of the pork chop. Squishy needs more cooking, firm is most likely done. Remove pan from the heat.
Finish the Pork Chops
Transfer the pork chops to a serving dish. Add a teaspoon of the shallot butter to each chop and let rest/melt for at least 5 minutes. Serve with potatoes or rice, roasted veggies for a full meal.
Nutrition
Calories:
429
kcal
Carbohydrates:
1
g
Protein:
29
g
Fat:
34
g
Saturated Fat:
8
g
Polyunsaturated Fat:
2
g
Monounsaturated Fat:
12
g
Trans Fat:
1
g
Cholesterol:
90
mg
Sodium:
215
mg
Potassium:
515
mg
Fiber:
1
g
Sugar:
1
g
Vitamin A:
67
IU
Vitamin C:
2
mg
Calcium:
15
mg
Iron:
1
mg