Mm, patty melts! When you're gluten-free, enjoying a delicious patty melt may seem like something you'll never enjoy again. But, with the right bread (gf explorers sandwich bread to be specific) and our delicious patty melt recipe, you can now sink your teeth into one of the most delicious patty melts you have EVER tasted. Our recipe includes a secret ingredient to add tons of flavor to the burger, a mustard trick, and our special burger sauce. The patty melt can be made dairy-free by simply omitting the cheese or using dairy-free cheese.
Scroll to the bottom for the burger sauce recipe.
discover. cook. enjoy.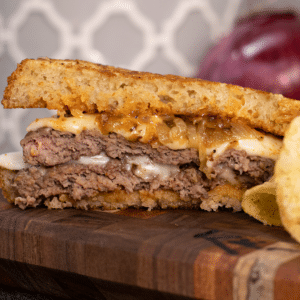 GF Classic Patty Melt
This decadent classic patty melt is made with gluten-free bread, special sauce, goat cheese, and caramelized onions.
The Ingredients
1

lb

ground beef

,

80/20

6

slices

Swiss cheese

,

or goat cheese, or your favorite cheese, or no cheese!

6

slices

gluten-free bread,

our recipe is terrific!

1

large

onion

2

tbsp

butter

,

softened. For dairy-free, use Earth Balance Buttery Spread

1

tsp

Umami Powder

1

tbsp

mustard

,

yellow

1

pinch

garlic salt

1

tbsp

gf explorers burger sauce

,

see recipe in blog post

Kosher salt and pepper
The Process
Mise en Place
Find the Burger Sauce recipe at the bottom of the Patty Melt post.
Caramelize the Onions
Set the heat at medium-high and add 1 tablespoon of Earth Balance and when that melts, add 1 tablespoon of sunflower oil to the pan. Once the pan and oil are hot the onions. Season lightly with kosher salt and pepper.

Once the onions begin to soften and become translucent, lower the heat slightly and keep cooking. The caramelization process will take about 30-45 minutes. During this time, mix the onions frequently. You will start to see them changing color as they cook. You will also see moisture in the pan as the cooking process releases the moisture from the onions. If the pan becomes dry, which it will about halfway to two-thirds into the process, add a small amount of water to the pan to prevent burning and sticking. About one-half cup at a time. Keep stirring, cooking, and adding water if needed until the onions reach a deep, caramel color.
Prepare the Beef
Add beef to a medium-sized bowl and add 1/2 teaspoon of Umami powder and mix together gently with your hands. Divide beef into six uniform-sized balls, about 2-3 ounces each.
On the Grill
Heat your griddle. While it is heating, add a pinch of garlic salt to the butter and mix together. Spread the button on each side of the bread and place the bread on the griddle to toast. Cook until you achieve your desired doneness. Remove the bread from the griddle.

Add all six balls of meat to the griddle and season with kosher salt and pepper on one side. Cook for 30 seconds and then turn the balls over.

Using a smasher (see equipment) and a stainless steel spatula, smash the burgers as thin as you can. Slather each patty with a thin coat of yellow mustard.

Cook the patties until they are crispy on the edges and juices form on top, 2-3 minutes. Turn the patties over and place a slice of cheese on each patty and cook for another 2-3 minutes until cheese is nicely melted.
Assemble the Burgers
Put a good amount of Burger Sauce on each slice of bread. Stack your patties (2) on each other and put them on the bread. Place a generious amount of caramelized onions on top of the patties and topo with your other piece of bread.
Nutrition
Calories:
550
kcal
Carbohydrates:
9
g
Protein:
36
g
Fat:
40
g
Saturated Fat:
18
g
Trans Fat:
2
g
Cholesterol:
140
mg
Sodium:
249
mg
Potassium:
528
mg
Fiber:
1
g
Sugar:
3
g
Vitamin A:
303
IU
Vitamin C:
4
mg
Calcium:
322
mg
Iron:
3
mg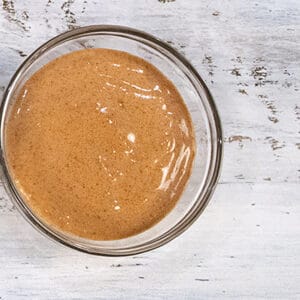 GF DF Secret Burger Sauce
A delicious and tangy addition to any burger
The Ingredients
1/2

cup

mayonnaise

1/2

cup

ketchup

2

tbsp

sweet relish

1

tsp

Worchestershire sauce

1

tsp

distilled white vinegar

1

tsp

granulated sugar

1

tsp

smoked paprika

1

tsp

garlic powder

1/2

tsp

dried onions

season to taste with kosher salt and pepper
The Process
Mix all ingredients well and chill before serving.